Swanepoel Romance Lounge Set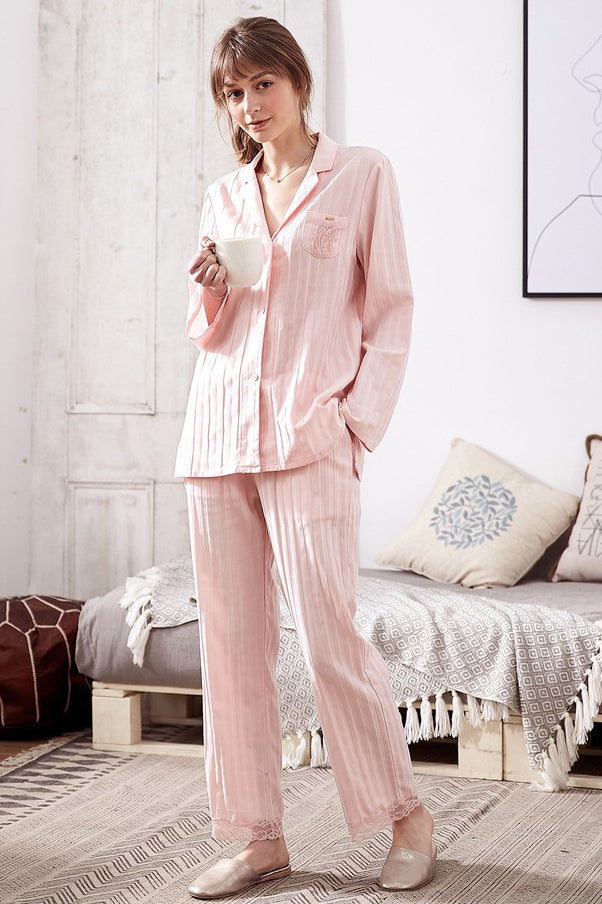 Designer: TheBeauDreamers
Another pastel pink lounge set...NOT! The angel's in the details, so turn your back on naysayers with its stunning lace insert back details, and a surprise at the trousers' hems too!
DESCRIPTION
TheBeauDreamers x YSO Spring Summer 18 Premium Collection
Crafted from high grade cotton mix fibers 
Delicate stripe fabric pattern
Collared long-sleeved buttom-down lounge shirt with back lace-insert details 
Functional left pocket with matching details on shirt front
Matching pants with delicate lace trimmings; functional side pockets 
MEASUREMENTS*:

Small 
- Chest: 50cm; Sleeves: 54cm; Shoulders: 36.5cm
- Length (Top): 66cm
- Length (Bottom): 94cm
- Waist: 32cm 
- Hips: 50cm
Medium
- Chest: 52cm; Sleeves: 55cm; Shoulders: 38cm
- Length (Top): 68cm
- Length (Bottom): 96cm
- Waist: 34cm 
- Hips: 52cm
Large
- Chest: 54cm; Sleeves: 56cm; Shoulders: 39.5cm
- Length (Top): 70cm
- Length (Bottom): 98cm
- Waist: 36cm 
- Hips: 54cm
Model's stats: 172 cm, 47kg, size Medium.

CARE INSTRUCTIONS

Machine wash cold with like-colours and mild detergent. Do not bleach. More detailed care instructions on labels.

OUR PROMISE

At TheBeauDreamers, we quality check every order and every piece of apparel / fabric so that you only get the best out of our service and products! Thank you to each and every customer / fan for your support.
THEBEAUDREAMERS FT YSO ACME NORDIC
For this partnership collection, kindly allow for approximately 2 weeks to receive your items as the products will be dispatched from an international warehouse. 
*Measurements are approximate, kindly allow a tolerance of up to 3cm.