Oxford Genius Lounge Set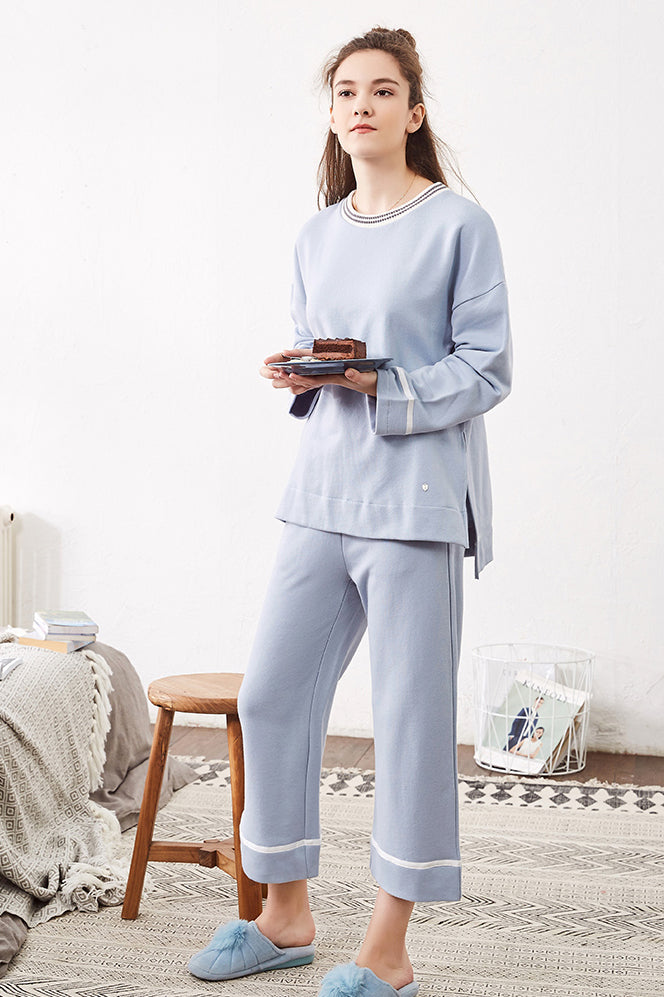 Designer: TheBeauDreamers
The most preppy in this collection, and the set to don for cooler weathers. Cosy up in its relaxed cut and the smoothest fabric for some bedtime reading. Our top choice as the perfect outfit in the study! 
DESCRIPTION
TheBeauDreamers x YSO Spring Summer Premium 18 Collection
Crafted from soft cotton mix fibers 
Round-neck long-sleeved lounge sweater top with an asymmetrical hem 
Ribbed neckline details 
Wide contrast piping at hems 
Matching long pants in relaxed fit
MEASUREMENTS*:

Small 
- Chest: 51cm; Shoulders: 61cm; Sleeves: 39cm 
- Length (Top): 57cm
- Length (Bottom): 94cm
- Waist (Bottom): 32cm 
- Hips: 50cm
Medium
- Chest: 53cm; Shoulders: 62.5cm; Sleeves: 40cm
- Length (Top): 59cm
- Length (Bottom): 96cm
- Waist (Bottom): 34cm 
- Hips: 52cm
Large
- Chest: 55cm; Shoulders: 64cm; Sleeves: 41cm 
- Length (Top): 61cm
- Length (Bottom): 98cm
- Waist (Bottom): 36cm 
- Hips: 54cm
Model's stats: 172 cm, 47kg, size Medium.
CARE INSTRUCTIONS

Machine wash cold with like-colours and mild detergent. Do not bleach. More detailed care instructions on labels.

OUR PROMISE

At TheBeauDreamers, we quality check every order and every piece of apparel / fabric so that you only get the best out of our service and products! Thank you to each and every customer / fan for your support.
THEBEAUDREAMERS FT YSO ACME NORDIC
For this partnership collection, kindly allow for approximately 2 weeks to receive your items as the products will be dispatched from an international warehouse. 
*Measurements are approximate, kindly allow a tolerance of up to 3cm.